Newest:
Marty Kelley. Experiment #256 (Sleeping Bear Press, 2019)
It's a science experiment gone… well, Marty Kelley, not wrong, just really goofy. Why think it through when you can can, say, strap a rocket to your dog's back and see what happens? not fun for the dog, grandma, the neighbors, and the garden gnome, but great fun for us.
Adam Rex. Star Wars: Are You Scared, Darth Vader? (Disney, 2018)
Are you scared of ghosts, Darth Vader? Is it the ghost of Obi-Wan Kenobi? Yoda? Then no, Darth Vader isn't afraid of ghosts, or… what? Can you guess before the last page is turned? For all the little Star Wars fans out there, and all thg big ones that will be reading it to them.
Ryan T. Higgins. We Don't Eat Our Classmates. (Disney-Hyperion, 2018)
Rules for school:
Play nice…
Share…
Clean up after yourself…
And DON'T EAT YOUR CLASSMATES!
Kristyn Crow, illustrated by Macky Pamintuan. Bedtime at the Swamp. (HarperCollins, 2008)
What's scarier than a monster… in the swamp… at night? Only one thing – your Ma when you are late coming home for bed! Told in rhythm and rhyme, with bold, expressive pictures, this late night chiller thriller of a picture book will get you chanting along… splish splash rumba rumba bim bam BOOM.

Richard T. Morris and Tom Lichtenheld, Illustrator. This Is a Moose. (Little, Brown, 2014)
What you are is NOT who you are! Or so the lacrosse playing grandma moose tells us just before she launches her grandson into space!
Alex Latimer. Never Follow a Dinosaur. (Peachtree, 2016)
What would you do if you saw dinosaur tracks? Yeah, well you aren't five years old!
Rick Walton, illustrated by Brad Sneed. Mr. President Goes to School. (Peachtree, 2010) In the middle of a political campaign when presidential candidates do things that would never be allowed on a school playground, maybe everybody should read this book about what a president could learn from a day back in his old kindergarten. And when you are done, maybe you should send a copy to your favorite presidential candidate.
—————————————————————————————————————
Elizabeth Baguley, illustrated by Mark Chambers. Pigeon Poop. (Good Books, 2012)  A perfect neat and tidy town ducks pigeon droppings falling down, while you the reader reads the text and tries to guess what's coming…
Sudipta Bardhan-Quallen, illustrated by Zachariiah Ohora. Tyrannosaurus Wrecks! (Abrams Books for Young Readers, 2014) Now here is a destructive force of nature that many little guys can relate too! Even when he is trying to be good, Tyrannosaurus's energy, and the damage, just can't be contained. In a classroom of good little dinosaurs, T-Rex puts the terrible in terrible lizards.
William Bee. "Stanley" (Series)
Stanley the Builder. (Peachtree, 2014)
Stanley the Farmer. (Peachtree, 2014)
Stanley's Diner. (Peachtree, 2014)
Stanley's Garage. (Peachtree, 2014)
Stanley is one helpful hamster, with lots of great tools and equipment. In simple text and bold pictures, Stanley spends his days helping one friend after another. A perfect little series of little books for little doers.
Artie Bennett, illustrated by Mike Lester. The Butt Book. (Bloomsbury, 2010)
Artie Bennet, illustrated by John Nez. Peter Panda Melts Down! (Blue Apple, 2014) From the author of The Butt Book and Poopendous comes a sweeter and younger picture book, a must for the bedtime story pile, that follows the ups and downs (and ups and downs and ups and…) of a lively three-year-old who just can't understand why good things ever have to end!
Artie Bennett, illustrated by Mike Moran. Poopendous. (Blue Apple, 2012)
Kelly Bingham and Paul O. Zelinsky. Z is for Moose. (Greenwillow Books, 2012) Order is overrated, and it takes too long!
John Butler. Can You Growl Like a Bear? (Peachtree, 2013) Don't just make cow noises; make dolphin noises! A board book to put the youngest down for a nap featuring exotic, and beautifully drawn animals.
Shawn Byous. Because I Stubbed My Toe. (Capstone, 2014)  For all those little guys who are sick of hearing, "There will be consequences, young man". Bring it on!
Ben Clanton. Mo's Mustache. (Tundra, 2013) The problem with being unique is that everyone ends up wanting to be unique just like you! Poor Mo.
Nathan Clement. Job Site. (Boyds Mills Press, 2011)  When the boss says get it done, which piece of machinery gets the job? Big bold pictures of big powerful machines doing big jobs, perfect for little guys.
Michael Dahl, illustrated by Christina Forshay. Goodnight Football. [Sports Illustrated Kids] (Picture Window Books, 2015) I'll say it: "Goodnight Moon" is a a wonderful picture book, but it is a little cutesy. Why not tuck the little guy in after a rousing college football game instead?
David G. Derrick, Jr. I'm the Scariest Thing in the Jungle! (Immedium, 2013) Two pint-sized, would be top predators claim the thrown in wild India. Tooth and claw, stalk and pounce, who is scariest of all?
Ame Dyckman, illustrated by Dan Yaccarino. Boy + Bot. (Knopf, 2012)  Read it to a boy, or a robot, you love.
David Elliott, illustrated by Lori Nichols. This Orq. (he cave boy.) (Boyd's Mill Press, 2014) Just to prove, little boys haven't really changed in a long, LONG time!
John Fardell. The Day Louis Got Eaten. (Andersen Press, 2012)  The kid gets eaten on page one. Just think how grumpy he will be by the end of the book!
Tony Fucile. Let's Do Nothing! (Candlewick, 2009) For all those little guys who can't sit still, here is a picture book that asks that most important question: Why try?
Joe Kulka. My Crocodile Does Not Bite. (Carolrhoda, 2013) …but what he does do is pretty amazing, and very funny. Do you like to see the mean kid get what she deserves?
Doris Kutschbach, illustrated by Julia Durr. Art Forgeries: Spot the Difference! Find the Fake! (Prestel, 2013) A mesmerizing take on the I Spy approach to books. Spot the differences between great pieces of art and, sometimes very funny, fakes.
David LaRochelle. Moo! (Walker, 2013) Books are about storytelling, not words. With just two words, this story thrills, chills, and spills. Turn the pages and tell the story in your own words!
Alex Latimer. The Boy Who Cried Ninja. (Peachtree, 2011) One boy makes unbelievable claims, and it gets him into deep trouble. Then he learns a lesson about telling the truth. Think you know the story? Not…even…close! The old tale gets all kinds of new and funny twists, plus, ninjas!
Steve Light. Diggers Go. (Chronicle Books, 2013) Big machines make big noises, can you make them too? Sing along with excavators, wrecking balls, and a whole chorus gears and wheels and roaring engines.
Kathy Long. Christopher Sat Straight Up in Bed. (Eerdmans Books, 2013) How brave it is to go and find out what makes frightening sounds in the night. Christopher braves trumpeting elephants, pounding dinosaurs, and… what?
Margaret Read MacDonald, illustrated by Deborah Melmon. Give Up, Gecko!: A Folktale from Uganda. (Amazon, 2013) If you love to root for the little guy, you have to love African folktales. And if you love folktales, you have to love Margaret Read MacDonald. There's a big job to do, and all the big animals think they are the ones to get it done, but never count out a littled lizard with a big heart.
Mack. Higher, Daddy! (Clavis, 2014) What little guy doesn't love being tossed in the air by dad? This little lift-the-flap book celebrates the pure joy that has given so many mommies pure terror! An on the lap book that every little guy will want to read over and over and over…
Jeff Mack. Good News, Bad News. (Chronicle Books, 2012) If you like Mo Willems' Elephant & Piggie books, here's a buddy story that will have you guessing what's coming on every turn of the page. The good news, here's a bright shiny apple. The bad news is…
Scott Magoon. The Boy Who Cried Bigfoot! (Simon & Schuster, 2013) I didn't normally talk to a Littlefoot…
Patrick McDonnell. The Monsters' Monster. (Little, Brown and Company, 2012) Three diminutive Frankensteins try to make a monster as monsterous as they would like to be. When they are good they are bad; when they try to be bad…
Derek Munson, illustrated by Melody Wang. Bad Dad. (Cannonball Books, 2013) Dad is always doing things with his kids that get him in trouble… which means he is always doing things with his kids!
Nicola O'Byrne, words b Nick Bromley. Open Very Carefully. (Nosy Crow, 2013) For all those fans of David Wiesner's The Three Pigs, here is another book that turns itself inside out. Who can pay attention to The Ugly Duckling when there is something big and toothy creeping around behind the pages? Do you ignor it and just try to keep reading? Heck no!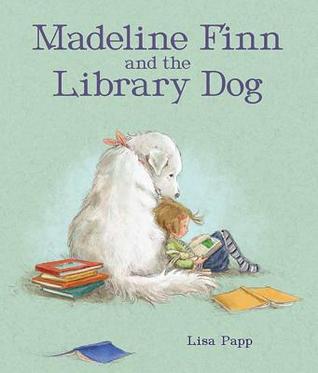 Lisa Papp. Madeline Finn and the Library Dog. (Peachtree, 2016)
"I do NOT like to read." So says Madeline, like so many emergent readers. But Madeline's library has a special program, where timid readers can read to some very special listeners, who don't judge, don't laugh, and who wag their tales appreciatively. See how one furry friend helps Madeline find the reader she can be.
John Perry, illustrated by Mark Fearing. The Book That Eats People. (Tricycle, 2009) So little guy, you want a scary book? A REALLY scary book? Are you sure? Okay… It's a little funny, and really kind of scary, introduction for your future gothic horror reader.
Barry Louis Polisar, illustrations by David Clark. Something Fishy. (Rainbow Morning Music, 2013) Every picture would be a cartoon worth framing: a dancing octopus in top hat and tails, a crabby crab, a couch potato seahorse, and fishing through the eyes of the worm. Oh yeah, there are funny poems too, but man, those pictures!
Chris Raschka. A Ball for Daisy. (Schwartz & Wade Books, 2011) A wordless book that speaks volumes abouts friendship and simple joys. Share it with kids aged 1 month to 100 years.
Aaron Reynolds, pictures by Peter Brown. Creepy Carrots! (Simon & Schuster, 2012) The revenge of the root vegitable. It's things that go bump in the night for the youngest crowd.
Aaron Reynolds, illustrasted by David Barneda. Pirates vs. Cowboys. (Knopf, 2013) Quick, who would win a fight, baseball players or musicians? Astronauts or dentists? Pirates or cowboys? What matters most? Strength? Weapons? Teamwork? Body odor? At last, the greatest question of our age is answered!
Aaron Reynolds, illustrated by Dan Santat. Carnivores. (Chronicle Books, 2013) Are carnivores really mean? Scary? Or do they just need to get in touch with their true inner selves? Face it, if a lion really gets in touch with his true inner lion, bunnies beware! Here is a picture book to read to your kids, because there are as many jokes in there for you as there are for them.
Jeff Rivera. Um, Mommy… I Think I Flushed My Brother Down the Toilet. (Jeff Rivera, 2012) Talk about taking the plunge(r)! It's an introduction to the classic fantasy journey (think "down the rabbit hole"… on second thought, just don't), for a very young audience.
Michelle Robinson. Pictures by Peter H. Reynolds. What To Do If an Elephant Stands on Your Foot. (Dial, 2012) Whatever you do, don't… Oh no, now you've made it worse! Sound like any little guys you know?
Adam Rubin, illustrated by Daniel Salmieri. Dragons Love Tacos. (Dial Books for Young Readers, 2012)  Why do dragons love tacos so much? And why do you never want to feed them tacos with hot salsa? Just try it and find out!
Bob Shea. Buddy and the Bunnies In Don't Play with Your Food. (Disney-Hyperion, 2014) Little monster gets outsmarted, out-kinded, and eventually outnumbered by some bunnies who would rather make friends than be dinner. Wouldn't you?
Bob Shea. Cheetah Can't Lose. (Balzer + Bray, 2013) The race isn't always to the fastest, but that's the way Cheetah is betting! He's bigger. He's faster. But maybe the race goes to the… smartest?
Kashmira Sheth, illustrated by Jeffrey Ebbler. Tiger In My Soup. (Peachtree Publishers, 2013) Adventure is best served hot…
Alan Lawrence Sitomer, illustrated by Abby Carter. Daddy's Zigzagging Bedtime Story. (Disney Hyperion Books, 2014) It is bedtime, and Jake wants one book; Jenny wants another. Jake wants one kind of story; Jenny wants another altogether. Never fear, Dad is here, with a story unlike any his kids have ever heard.
David Slonim. I Loathe You. (Aladdin, 2012) All things being relative, and relatives being all things, how does Big Monster tell Little Monster how much it cares?
Lane Smith. Abe Lincoln's Dream. (Roaring Brook Press, 2012) And who should be more surprised? A little girl who stumbles upon the ghost of Abraham Lincoln? Or Abe seeing the world that he helped build more than a century later?
Lemony Snicket, illustrated by Jon Klassen. The Dark. (Little, Brown, 2013) A little boy the dark lives in his house. He's afraid of the dark, but as long as it doesn't come calling it can have the basement, the closet, and the night. Then the dark comes calling…
Sally Sutton, illustrated by Brian Lovelock. Demolition. (Candlewick, 2014) Little guys, big trucks. A match made in heaven. But even better than watching huge machines make stuff is watching them knock stuff down. And wait for the twist at the end!
Britta Teckentrup. Big Smelly Bear. (Boxer Books, 2013)  When does a big bear take a bath? Whenever he wants to. Which means that a big bear DOESN'T take a
bath when he DOESN'T want to. Ah, freedom. Great, stinky freedom!
Bill Thompson. Chalk. (Marshall Cavendish, 2010) What does sidewalk chalk have in common with a wordless picture book?
Shrill Travesty. The Taking Tree: A Selfish Parody. (Simon & Schuster, 2010) Okay, even if you love The Giving Tree, admit it. That selfish, snot-nosed kid really ticks you off. Gimme this, gimme that. I want apples, I want wood, la la la. Don't you sometimes just wish that tree would…
Herve Tullet. Press Here. (Chronicle Books, 2011) The perfect picture book for little guys. They will point, tap, clap, jump up, and laugh. It is a book designed to stimulate the analytical side of the young boys' brains, and boy does it ever.
Mike Twohy. Outfoxed. (Simon & Schuster, 2013) If it looks like a duck and quacks… but if it licks your face and pees on the rug, is it a duck? If it lives in a chicken house can it be a dog? Fox doesn't have time for all these questions; he's hungry!
Mike Twohy. Wake Up, Rupert! (Simon & Schuster, 2014) Every day, those poor roosters wake up before everybody else, to wake up everybody else. But do they really have too? I mean, Rupert the rooster can sleep in just one day, can't he?
Myron Uhlberg, illustrated by Colin Bootman. A Storm Called Katrina. (Peachtree, 2011) Rich images in oil, simple and subdues text, all point to a powerful point-of-view story from an American disaster. A ten year-old boy tells only what he can see in a dark night and the subsequent days as his world turns upside down around him. A million people suffering is history; one boy suffering is his story.
Hope Vestergaard, illustrated by David Slonim. Digger, Dozer, Dumper. (Candlewick, 2013) Little poems about big machines means big fun for little guys.
Lisa Wheeler, illustrations by Barry Gott. Dino-Basketball. (Carolrhoda, 2011) High-powered basketball lingo, tongue-twisting dinosaur names, and dizzyness-inducing pictures. All a little guy could want from a picture book!