Newest:
Alison Hart, illustrated by Michael G. Montgomery. Leo, Dog of the Sea. 1519-1521. (Peachtree, 2018) [Dog Chronicles #3]
Leo has everything that a great explorer needs, courage, resourcefulness, a vital skill that will help his fellow explorers survive a dangerous journey into an unknown world, four legs… Wait, what? Yes, where would an expedition on a wooden sailing ship be on a three-year voyage without a faithful rat dog? Not that Ferdinand Magellan, the great Captain General of the voyage, concerns himself with such matters. He is focused on an impossible goal. In the early 1500′s is it even possible to sail a ship around the world?
Kate Klimo, illustrated by Tim Jessell. Stubby. [Dog Diaries, #7] (Random House, 2015) A bandy-legged mutt from Connecticut comes nose to nose with a sergeant in the US Army in World War I. He then proceeds to become a hero on the battlefields of France, saves wounded soldiers, and even catches a German spy. He is inducted into the army, wins medals, and meets presidents. Don't you just wish you knew what was going through his mind? Well now you can. Stubby, maybe the greatest real life dog hero ever, tells his own story in the latest installment of the Dog Diaries series by Kate Klimo. Makes a great fiction/nonfiction pairing with "Stubby the War Dog: The True Story of World War I's Bravest Dog", by Ann Bausum.
———————————————————————————————–
Avi. Crispin: Cross of Lead. (Hyperion Books for Children, 2002)
Susan Campbell Bartoletti. The Boy Who Dared. (Scholastic, 2008) A gritty story of a boy's courage and defiance in Nazi Germany. This story is based on real events and it shows. It will have you on edge to the very last page; what more could you ask of historical fiction?
Christopher Paul Curtis. The Watsons Go to Birmingham. (Delacorte Books for Young Readers, 1995)
Dotti Enderle. Crosswire. (Calkins Creek, 2010) A teenage boy experiences the danger and struggle of the taming of the Texas plains when his family's ranch is threatened by violent gangs who cut fences, kill livestock, and threaten ranchers in a war to keep the plains open. In a time and place where the law doesn't really exist, it is a man, his gun, and the courage to use it that stands between life and death, but is Jesse really ready to stand up and be that man?
Nancy Bo Flood. Warriors in the Crossfire. (Boyd's Mill Press, 2010) This is a story of native peoples caught in the crossfire of World War II in the Pacific. The people of Saipan Island huddle between the occupying Japanese, who vow death to all rather than surrender, and the Americans who are said to be so vicious they eat children. Who do you fight for? Who do you fear most? And does it take more courage to fight or to survive?
Helen Hemphill. The Adventurous Deeds of Deadwood Jones. (Front Street, 2008) The Wild West held the promise of freedom and opportunity, and probably for none more so than the newly freed African Americans after the Civil War. But the reality was harsh, life was hard, and for Prometheus Jones slavery was not left completely behind. This is a rousing Western tale full of action, adventure and courage.
Deborah Hopkinson. The Great Trouble: A Mystery of London, the Blue Death, and a Boy Called Eel. (Knopf, 2013)  A dread disease arises in a poor and packed neighborhood in 19th century London, and in days six hundred are dead. The poor die in droves while the rest of the city stands back in horror, so it is up to a boy of the streets, and the sewers, to head off the disease before it takes everyone he loves.
Chris Lynch. Gold Dust. (HarperCollins, 2000)
Stan Mack and Susan Champlin. "The Cartoon Chronicles of America" (Series)
Road to Revolution. (Bloomsbury, 2009)
Fight for Freedom. (Bloomsbury, 2012)
It's the Civil War, near the frontlines, and everything about life on a southern plantation has been thrown into chaos. The slaves aren't free, but they aren't really slaves either. Proper southern women can no longer be proper southern women. You can't tell "us" from "them" because nobody knows who we are and who they are. Two children, one white and one black, who grew up together in the old world will have to find a way to make it in a whole new world in this comic book story.
Andrew Matthews. The Way of the Warrior. (Dutton Children's Books, 2008)
Harry Mazer. A Boy at War: A Novel of Pearl Harbor. (Simon & Schuster Children's Publishing, 2001)
Harry Mazer. A Boy No More. (Simon & Schuster Children's Publishing, 2004)
Laurie Myers. Escape By Night: A Civil War Adventure. (Henry Holt, 2011) Nine year old Tommy McKnight knows where to put his trust and loyalty: God, family, his beloved Georgia, and the Confederacy. But what will he do when being loyal to one makes him disloyal to another?
Walter Dean Myers. Patrol: an American Soldier in Vietnam. (HarperCollins, 2002)
Gary Paulsen. The Rifle. (Harcourt Brace & Company, 1995)
Gary Paulsen. Woods Runner. (Wendy Lamb, 2010) If your first thought was "Johnny Tremain", try this instead. Gary Paulsen's true strength may not be action/adventure but historical fiction. This fast-moving tale from the Revolutionary War encompasses not just the cities but the frontier, which is often lost in history. Short passages of historical fact are woven in with the narrative, making it read like both history and compelling story. This is one of Paulsen's best. When he's done reading this one, give him Paulsen's "The Rifle".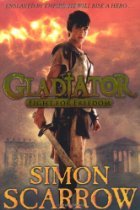 Simon Scarrow. Fight for Freedom. [Gladiator, Book 1] (Disney, 2012) Ancient Rome, a world of noble ease and brutal slavery. Marcus may have only known the ease of a slave owning family, but at age ten he is thrown into the violence and terror of the gladiator schools, where slaves fight to the death for the pleasure of those they serve. Honor? Purpose? Even humanity seems out of reach. There is only the fight to live.
Roland Smith. Elephant Run. (Hyperion Books for Children, 2007)
Bibi Dumon Tak. Soldier Bear. (Eerdmans Books, 2011) Who would have imagined that the most human thing in an inhuman war would end up being a bear? Based on true events!
Lauren Tarshis. "I Survived" (Series)
#1: I Survived the Sinking of the Titanic, 1912. (Scholastic, 2010) Ten-year-old George is taking the journey of his life, and soon will be fighting for his life instead. He is sailing on the greatest ship ever built, the largest moving object in the world, the unsinkable Titanic. Talk abut guessing the ending of a book!
#2: I Survived the Shark Attacks of 1916. (Scholastic, 2010)
#3 I Survived Hurricane Katrina, 2005. (Scholastic, 2011)
#4: I Survived the Bombing of Pearl Harbor, 1941. (Scholastic, 2011)
#5: I Survived the San Francisco Earthquake, 1906. (Scholastic, 2012)
#6: I Survived the Attacks of September 11th, 2001. (Scholastic, 2012)
———————————————–
Primarily for Teen Guys:
Joseph Bruchac. Code Talker: A Novel About the Navajo Marines of World War Two. (Speak, 2005)
Paul Dowswell. Eleven Eleven. (Bloomsbury, 2012) November 11, 1918, 5:00am. Old men, who get to decide these things, decide that World War I, "The Great War", would end in six hours. The eleventh hour of the eleventh day of the eleventh month; it
had a nice sound to it. It gave the old men time to tell everyone and make sure everyone was on board. It also gave young men six hours to die.
Chris Lynch. "Vietnam" (Series)
I Pledge Allegiance. [Book One] (Scholastic, 2011)
Sharpshooter. [Book Two] (Scholastic, 2012)
Free-Fire Zone. [Book Three] (Scholastic, 2012) "There are no Zippo boats there yet, boys, and the nearest jets carrying napalm got blown away on the ground. VC are entrenched in Mangrove swamps and jungle and tunnels so deep, they must've been living there for years, waiting. Everybody is waiting on us, and we are letting men die every extra second. I can promise you this, men. You have never been more needed in your entire sorry lives than you are needed right this minute."
Margi Preus. Shadow on the Mountain. (Amulet, 2012) Real people fought the Nazis in a thousand small ways, and the people of Norway fought among the longest. The Nazis were sure that the blond-haired, blue-eyed people of Norway would welcome them with open arms, and there they would hold out until the end in "Fortress Norway". They were wrong. Shadow on the Mountain, based on the actual stories of the Resistance, shows the heroic courage of those who not only fought the Nazis, but refused to lose what made them better than their enemies to begin with.
Robert Sharenow. The Berlin Boxing Club. (HarperTeen, 2011) Any real sports fan will tell you, sports are life. So for a Jewish boy growing up in Nazi Germany, nothing is more natural than strapping on the gloves and getting into the ring. Punishing, sure, but in and out of the ring, Karl Stern is fighting for his life.
Todd Strasser. Fallout. (Candlewick, 2013) Alternate history. What really happened, followed by what might have happened after. Todd Strasser, author of The Wave, is the master of making world shaking events very personal. So when air raid sirens go off in 1963, after weeks of frightening radio stories about the chance of nuclear war and frantic air raid drills in school, the narrow entrance to a bomb shelter becomes a door from certain death to a very uncertain life. First question: who goes through that door. Bigger question: who will come back out?